MNC Debuts Educational Neuroscience Video
Published:
Thursday, April 18, 2013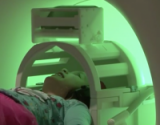 By Jody Williams, 301-405-2648, jodywill@umd.edu
Published: Thursday, April 18, 2013
For Immediate Release

COLLEGE PARK, Md. – The Maryland Neuroimaging Center  (MNC) will debut the educational video, "Tour the Human Brain!" at Maryland Day on April 27, 2013 in a 3-D version.
"Tour the Human Brain!" features a young research participant who has volunteered for a study and her visit to the MNC.  It follows her as she goes through the steps of preparing for and entering the Magnetic Resonance Imaging scanner, or MRI machine.  The video then takes the viewer on a tour of the human brain, explaining the different parts of the brain and how they function.
Faculty and labs conducting neuroscience research will continue to use this video for educational purposes and to better prepare their young participants for their experience at the MNC.
About the Maryland Neuroimaging Center

The Maryland Neuroimaging Center is the home for neuroimaging research at the University of Maryland. The center brings together an array of state-of-the-art tools for observing the human brain in action.  The center, under the direction of Dr. Luiz Pessoa, has been designed to foster collaboration among neuroscientists, psychologists, cognitive scientists, engineers, and physicists. A special focus of the center is on understanding mechanisms of brain development and neural plasticity in typical and atypical populations, and in understanding the neural mechanisms underlying expert abilities that serve critical national priorities. The MNC is an initiative of the university's interdepartmental NACS Program, and is available to researchers from the University of Maryland and other regional centers.
###