Facilities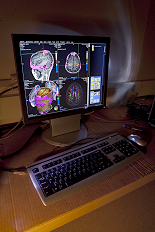 MRI
The centerpiece of the facility is a state-of-the-art Siemens 3 Tesla TIM TRIO scanner, equipped with 32 receive channels for significant increases in signal-to-noise and acquisition speed.
Mock Scanner
Our MRI simulator looks, feels, and sounds like the real thing. It is especially useful for preparing special populations, such as pediatric participants, for their experience in the real scanner, making data acquisition more successful.
MEG 
The Yokogawa/KIT/Ricoh Company Magnetoencephalography (MEG) device allows fully non-invasive measurements of neuronal activity in the brain, by recording magnetic fields at 160 different sites around the head. MEG provides exquisite timing resolution and allows for relatively precise localization of many evoked brain responses.