MRI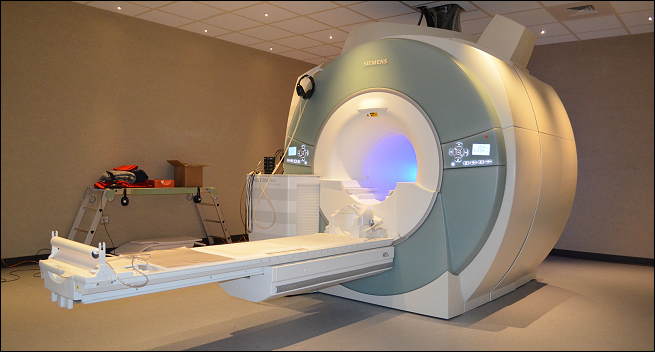 MAGNETOM Trio, A Tim System 3T
Features

Reduced noise level with high gradient performance
MAGNETOM Trio reduces acoustic noise level by up to 90%*  using special casting and mounting of the gradient coil, unique MRI sequence design and innovative system covers making the sound level more comfortable for the subject while maintaining high gradient performance needed for the most demanding applications.
Lightweight Coil
The ultra lightweight coil weighs only 950 grams without the cable (33.5 ounces), which is ten times lighter than the industry average in 3T, making it significantly more comfortable. The Tim's Matrix coil flexibility can combine several coils in the vertical, as well as in the left-right axis.
Accessible for everyone
The low-to-the-floor position of just 57 cm (22″) makes it accessible for everyone and supports up to 200 kg (400 pounds), without table movement restrictions. For claustrophobic subjects, most scans can be done feet-first and the Head Matrix coil offers about 25% more access volume, providing a more comfortable fit.
Technical Specifications

MAGNETOM Trio, A Tim System with I-class with
Tim [102 x 12]
Tim [102 x 32]
Tim
- Up to 102 seamlessly integrated coil elements with up to 32 RF channels
- 50 cm FoV. Whole-body imaging functionality up to 181 cm (5'11'')
- iPAT2. Unmatched PAT up to 16
Compact Magnet
- Short bore 3T magnet
- Homogeneity: 0.25 ppm VRMS for a 40 cm (16 inch) DSV (diameter spherical volume) 1 ppm VRMS for a 50 cm (20 inch) DSV (diameter spherical volume)
Audio Comfort with strong gradients

Hardware and Software measures for acoustic noise reduction up to 20 dB (A) as compared to conventional 3T systems. This is a reduction of 90 % in sound pressure.
Gradient field strength up to 45 mT/m (72 mT/m effective)
Slew rate up to 200 T/m/s (346 T/m/s effective)
Large Field of View up to 50 cm / 20 inches with excellent linearity
Ultrafast, highly compact, water-cooled gradient amplifier in solid-state technology for best min. TR 1.5 ms and min. TE 0.6 ms (matrix 2562)
Computer

syngo, the highly intuitive Siemens cross-modality user interface, is the basis for all MAGNETOM Trio with I-class applications.